Southern Oak Insurance Company is a Florida domiciled company established in 2004 to provide residential property coverage. As a privately held company wholly owned by Florida residents, we understand the importance of being there when you need us most.
Protecting Policyholders and the Future of Our Company
Southern Oak secures reinsurance (insurance for insurance companies) from A-Rated companies to protect both policyholders and the company from hurricane and catastrophic events. This protects our policyholders against all past storms that have impacted Florida, as well as events we have not yet experienced. Southern Oak
will
be there for you after a storm.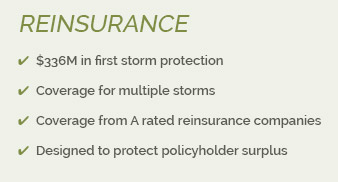 The representative was very helpful

The representative was very helpful in answering my policy questions about coverage. Also, I was able to 3-way call with my lender to get all of the details hammered out at once. –Richard E.