Southern Oak Insurance Company is a Florida domiciled company established in 2004 to provide residential property coverage. As a privately held company wholly owned by Florida residents, we understand the importance of being there when you need us most.
Protecting Policyholders and the Future of Our Company
Southern Oak secures reinsurance (insurance for insurance companies) from A-Rated companies to protect both policyholders and the company from hurricane and catastrophic events. This protects our policyholders against all past storms that have impacted Florida, as well as events we have not yet experienced. Southern Oak
will
be there for you after a storm.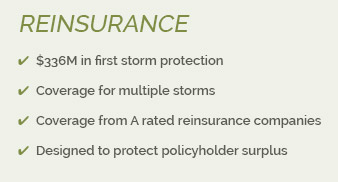 Explicitly clear

As a first time home buyer, I didn't know anything about home owners insurance. Justin Ross was not only patient but explicitly clear even when drawing up my quote. There were no hidden costs because he explained everything, including ways I could improve my home to improve some rates in the future. His transparency helped me come to a decision quickly. – Gina C.