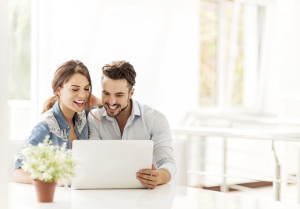 Buying a home for the first time brings with it a wealth of confusing options, from what neighborhood is best to how many bedrooms you really need to how much you can get pre-approved for. One thing first time buyers typically forget, however, is homeowners insurance. This critical piece of protection can mean the difference between replacing your valuable possessions in a disaster and being uncovered. Let's take a look at the things you need to know about home insurance when buying your first home.
1. Get Your Credit Up
Address your credit aggressively before you buy a home. Lenders and insurers take your credit into account when deciding how much to charge you for premiums or interest, and may even deny you if you don't hit a certain mark. Do what you can by reducing your debt, paying credit card bills on time and avoiding balances wherever possible. Fight any fraudulent claims or errors on your reports to prevent them from harming you.
2. Evaluate All the Risks
It's natural to assume that your insurance is "good enough," but this is a mistake. In order to ensure you're fully covered, you must evaluate every possible risk. For instance, flooding often isn't covered under typical home insurance, so if you're in a high-risk area, you should pay extra for it. If the risk of natural disaster in a particular area is bad enough, you may want to consider simply choosing a different home elsewhere.
3. Compare, Compare, Compare
Before you choose an insurance policy, be sure you've explored all the options. This is standard advice, yet surprisingly few people actually do their due diligence. Talk to all the insurance providers in your area to see who will give you the most complete coverage … not necessarily the best price. Remember that good insurance is always better than cheap insurance.
4. Don't Skimp on Coverage
Keep in mind that standard insurance won't cover every valuable item in your home. If you want to insure family heirlooms, priceless pieces of art or specialty equipment, you may need to get extra coverage in the form of insurance riders or endorsements. These extend home insurance coverage so your most valuable possessions aren't neglected in the accounting following a disaster.
Before you sign on the dotted line, make sure you've gotten the advice of an industry expert who can help you protect the things you care about most; click the image below to find out which questions you should ask your insurance agent to get the information you need when buying your first home.