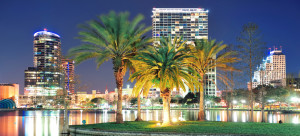 The Sunshine State has a great reputation as a top vacation or retirement destination in the U.S. But many people may not know that Florida is also home to many towns and cities that offer a high-quality of living year round – not to mention a temperate climate and plenty of beaches and other natural areas for relaxation 12 months of the year. Many of these locations also have very low incidences of crime compared to national averages, making them ideal options for families, empty-nesters and others.
Low-crime doesn't just mean peace of mind – since home insurance rates are based in large part on the safety risks associated with a community, living in a low-crime area also means you can save money on your homeowners insurance costs as well. If you're thinking about relocating to Florida, here are five top-ranking locales worth considering:
St. Johns, Florida
Located right between St. Augustine and Jacksonville, St. John's is an unincorporated community of just under 40,000 people and boasts an array of upscale restaurants,
retail stores and art galleries.  Public and private schools are also highly regarded, making it a great place for families, and a wealth of public parks and green spaces means it's a good choice for those who enjoy spending their free time outdoors. St. Johns also has a deep commitment to the natural environment that makes this town so unique and inviting, with a robust habitat conservation plan and plenty of native marshlands to explore. Several top-rated golf courses are also nearby.
Parkland, Florida
If a small-town atmosphere appeals to you, Parkland can be hard to beat. Not only is it ranked as one of the safest towns in Florida, but its relatively small population – about 25,000 residents – makes it a great place to raise a family. Once strictly home to farms, Parkland's proximity to Boca Raton and the ocean proved a popular draw for non-agricultural businesses and residents in recent years, and the town has flourished as a result.
Weston, Florida
If living in a small community isn't quite your speed, Weston could be just what you're looking for. Residents of this South Florida town can enjoy the best of both worlds – small town charm (and low crime rates) combined with easy access to big city events and venues in downtown Miami. With a population of just over 65,000, Weston is located just to the east of the Everglades, making it a great place for families who enjoy exploring nature with their kids.
Winter Springs, Florida
About half the size of Weston, Winter Springs is located just outside of Orlando, and like Weston, it's also chock-full of parks and open spaces, as well as kid-friendly activities like splash pads and playgrounds and plenty of dog-friendly parks as well. Theft and property crime rates are very low, with most police activity centered around minor traffic violations.
Longwood, Florida
If you like the Weston area but you're interested in a smaller community, Longwood is a good choice. Located not far from Orlando, Longwood has about 15,000 residents as well as a very active public leisure department dedicated to providing plenty of recreational activities for people of all ages. The department provides a handy guide for all sorts of activities and classes so kids (and adults) can stay active all year round.
When choosing your new home, it's important to consider not only one-time costs of purchasing, but also ongoing costs like the cost of adequate homeowners coverage. Selecting a town with a history and reputation for low crime is one way to keep the home insurance coverage your want and need without going over your budget.
Are you buying a new home in a new city? Then make sure to ask your homeowners these 10 questions to ensure you're getting all the coverage you need.