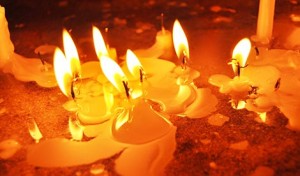 October is fire safety month, and that means making sure your family knows the dangers a fire can cause. Exercising fire prevention in your home is essential, so it is important that you are aware of the many ways in which a fire can start. Keep your family safe and prepared, and beware of these red flag fire starters:
Worn Electrical Cords
Electrical cords can get weak and frayed over time. When this occurs, the wires become exposed, creating the possibility of them causing a rug fire or worse. If you have pets, consistently check to make sure they do not chew on electrical cords.
Unattended Candles
Candles are nice to look at, and can even smell nice. That means nothing if they burn down your home. Candles should never be left unattended, and do not go to sleep with a candle burning. It only takes a second for the flame to get out of hand.
Gasoline
Some people store gasoline in their garage when using items like lawnmowers and other fuel-burning tools. Gasoline should be stored away from the house to avoid explosions or fumes that can come in contact with flammable surfaces.
Gutters
The outside of the home is just as important as the inside. Make sure your gutters are clean and free of flammable materials. During fire season, this could be a serious issue.
Wiring
The wiring in a home is very important. Although the wires are behind the wall, one short circuit could result in disaster. According to the NFPA, electrical fires have accounted for more than 50,000 home blazes a year, including $1.5 billion in property damage.
Clothes Dryers
Lint can build up inside the dryer cabinet, even when cleaning it out. The heating element is also in this cabinet, and a fire can start if enough lint accumulates in this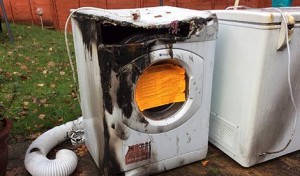 area.
Overloaded Outlets
Laptops, phone chargers, new appliances or other gifts all add up to overload your existing electrical system. Flickering lights, black marks around outlets, and temporary loss of power due to flipped breakers all indicate you're overdoing it. Spread the load around since each room tends to be on a different circuit. Most circuits are only rated for 15 amps, which means you should only plug in about 1800 watts of lights per room. Spread these among the outlets evenly.
Knowing what your homeowners insurance policy covers is key. Get enough insurance that will replace or repair your home should you encounter a fire. Utilize these tips year round, and not just during fire safety month for great results.
Keep your family safe from any emergencies by downloading our Family Emergency Plan, filled with tips on what to do in case disaster strikes. Click the image below to get your free copy!