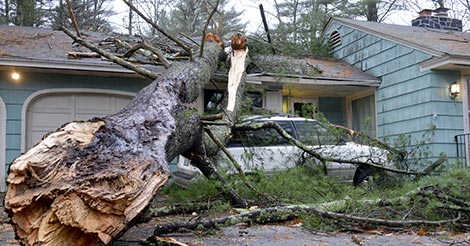 The holidays are just around the corner but Florida homeowners know that hurricane season is here for a few more weeks. Even though it's time to start planning for your winter parties, bad weather could make it hard to get in the holiday spirit. For many homeowners, fallen trees are one of the most common issues that come up during hurricane season. Make sure you're prepared for fallen trees with regular home maintenance steps and the best homeowners insurance coverage from Southern Oak Insurance.

Are You Covered if a Tree Falls on Your Property?
In most cases, your homeowners insurance policy will protect your home from fallen trees. When you have homeowners insurance, you can get the help you need to pay for tree removal and other repairs. Whether it was a strong wind that knocked over your tree or a lightening strike, homeowners insurance can help you save time and money. Just remember that whenever you file a home insurance claim, you still have to pay a deductible before you can start making repairs around your home.
How to Safely Remove Fallen Trees
Trees falling down around your house can be very dangerous but tree removal can be risky too. Put your family's safety first and file a home insurance claim right away. Once you file a claim, you can hire professional tree removal services to do the dangerous work for you. Even if you want to try to clean up without the extra help, you should leave the hard work to the professionals.
The Dangers of Fallen Trees:
Power lines can make tree removal risky because you can get badly hurt if you aren't careful. Stay away from fallen trees and turn to the experts for help if any trees fall down around your power lines.
Using the wrong tools can be dangerous too. If you don't know which tools to use, it's always a good idea to ask for help.
Gravity's pull can really make tree removal hard too. Even if it seems like you could do it on your own, keep your family's safety in mind and remember that gravity's pull can be hard to work around.
Decaying wood may look strong but it can be dangerous if you don't know what you're doing. Soft wood crumbles easily and could hurt you or your family if you aren't careful.
When it comes to fallen trees landing on your property during hurricane season, leave the hard work to the professionals. With total insurance protection from Southern Oak Insurance, it's easy to keep your property and your loved ones safe all year long. Stay prepared in case of disaster by downloading our Family Emergency Plan, full of tips to help keep your loved ones protected.