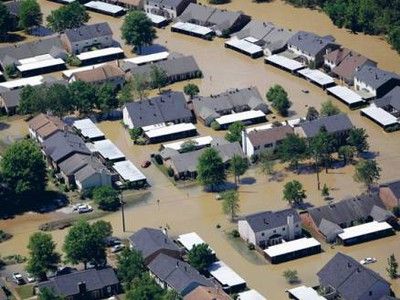 Floods are the most common cause of weather-related home damage in the U.S., accounting for an average of about $4 billion in losses every year. Hurricane Sandy alone resulted in almost $7 billion in National Flood Insurance Program claims, and Hurricane Katrina NFIP payouts amounted to more than $16 billion. Even with those federal programs in place, homeowners who lacked flood insurance policies wound up paying substantial out-of-pocket costs which were, in many cases, financially devastating. With this year's hurricane season just around the corner, understanding flood insurance – what it covers, what it doesn't cover and whether or not you need it – is especially important. Here are the top five things you should know:
1. A typical homeowners insurance policy does not provide coverage for flood damage. This is perhaps one of the biggest surprises for consumers who often incorrectly believe their homeowners coverage protects them from any type of damage – especially damage related to any type of natural event, like heavy rains and flooding. In fact, most home insurance policies do not provide flood coverage, leaving homes and homeowners exposed to substantial losses.
2. Not all flood policies are created equal – specifically, some policies cover damage to the structure of your home while others cover damage to the contents of your home. You can – and should – have both types of coverage to be safe. Flood insurance does not cover the value of your property, so it your land is washed away by an overflowing river or buried under a mudslide, you can still only recover the costs of your home and/or its contents (depending on the type of policy you have).
3. Flood insurance isn't instantaneous – that is, unlike an auto insurance policy or a homeowners insurance policy that takes effect right away, flood insurance usually has a 30-day waiting period before the policy takes effect.
4. The cost of flood insurance can range dramatically based on where your home is located; homes in high-risk areas obviously have higher premiums than those in areas where flooding has not historically posed a problem. The best way to learn how much it costs to keep your home and possessions safe is to talk with an agent.
5. If you rent a home or apartment or own a condo, you should still have flood insurance for your personal possessions. For renters, the landlord's flood insurance policy will cover his or her losses, not yours; likewise, the insurance owner by a condo association is for the structure and systems of the building, not for your personal possessions.
Do You Need Flood Insurance?
Because flood insurance has an "aging in" period, now is the time to call about adding coverage to your home before the 2016 hurricane season begins. At Southern Oak Insurance, our agents have extensive experience in assessing flood risks for homeowners throughout Florida. To learn more about flood insurance or to have your home insurance policy reviewed, call Southern Oak Insurance today at 877-900-3971 or talk with an agent.
If you want to learn more about preparing your family and home for disaster, read our blog post National Preparedness Month- 5 Things Your Family Should Know
Before disaster strikes, download our Home Inventory Checklist to make sure your family is safe and prepared.