Autumn is here- the season of changing colors and falling leaves.  Although these things may be pretty to look at, they could potentially be harmful to your home. Clogged gutters can cause water to leak into your roof and cause mold to grow in your home, which can cause respiratory infections and allergies. The cost of eradicating mold is nowhere near cheap; it can cost a homeowner anywhere from $500-$5,000, depending on the severity. Gutters that are not properly secured have the possibility of falling off and allowing water to get down to the foundation of your home, damaging the entire structure. Fortunately, there is some preventative maintenance you can do to protect your home from gutter troubles.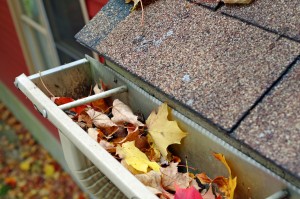 Make sure gutters are properly attached; the rivets on your gutters (the metal pieces attaching them to your roof) can rust and break off if they get too old, causing your gutter to become unattached in parts, or even fall of completely.  Rivets can rust and break off, allowing your gutter to droop or fall off completely. You can easily reattach them with a rivet gun, which would cost somewhere around $20. Also, make sure your gutters are properly secured before pressure washing them when cleaning them out.
The next step is to regularly clean out your gutters throughout the year.  If you have a large amount of trees around your home, this step will be more frequent. (If you have pine trees, it will need to be even more frequent, since the needles fall all year round).  However, even if you have almost no trees, it should still be done twice a year by pulling out leaves and then pressure washing. Make sure to pay special attention to downspouts, as that is how the water is led away from the foundation of your home.
If your gutters become clogged constantly, you may want to cut away tree branches that sit over your roof, or are especially close to your house.  This will decrease the amount of leaves getting stuck in your gutters.
If your gutters are rusty, you should first consider replacing them; if they are cracked, broken, or have a large amount of rust, they may not be able to function properly and should definitely be replaced. If they're still in good shape, you can sand off the rust and repaint them with rust-resistant paint.
Fall maintenance is important to protecting your home from damage- paying to keep your home in tip-top shape will be much cheaper than paying for any that damage that could happen to your home, or having to file a home insurance claim. We hope our tips have helped and encourage you to to clean your gutters out sooner rather than later – before the windy, cooler weather rolls in!
To learn more home maintenance tips for your home this fall, download our eBook, Preventative Maintenance To Save Homeowners Money, by clicking the image below.